Polarization Light for Glass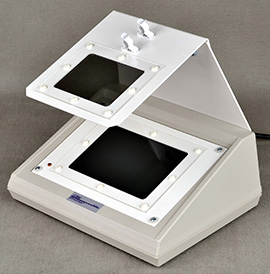 Stress introduced during the manufacture of glass component has an import effect on the strength of the product. This effect can be detrimental or beneficial in that it may contribute to failure in services, or to an increase in strength. It is clearly important for quality control to monitor the residual stresses that are present.
The "PL" Glass Stress Viewer has been designed for the qualitative inspection of glass components including tableware, small bottle, jars, scientific glassware and ampoules.
The adjustable working spaces and sloped design accommodate a wide range of product with the option of a magnifier to aid the inspection of small parts.
Adjusted working spaces 125-215mm.
530nm tint plate provide full colour stress representation
Removable magnifier for examining small samples
Sloped design for operator comfort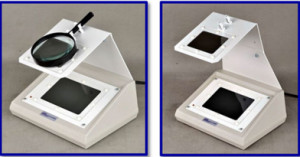 specification
Viewing area: 130mm x 90mm
Overall size: H 250 x W 260 x D 210 mm
Light source: 2 x 9watt (Fluorescent lamp)
Main supply: 220/ 240 or 110 volts