Model 907 Portable O2 / CO2 Analyzer
Overview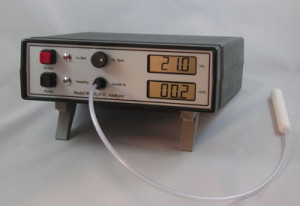 The Model 907 is a Portable Oxygen and CO2 analyzer, used for research or package testing.
The 907 is a portable headspace analyzer for measurement of O2 and CO2 levels in gas flushed MAP packages (such as coffee or meat products). Alternately, the 907 can be used for portable O2 and CO2 measurements for research applications (such as cell culture incubators).
It weighs only 2 lbs, and comes with a nylon protective case and internal rechargeable battery pack. It can be easily operated without removal from the shoulder strap case.
ULTRA FAST
The Model 907 incorporates the latest fast response O2 and CO2 sensors, which allows results to be obtained in 5-7 seconds for rapid spot checks.
EASY SAMPLING METHOD
Our standard sample probe assembly for food package testing connects to the front panel of the Model 907.
The sample probe is tipped with a particulate filter and luer fit syringe needle with side-port holes to prevent plugging.
Additionally, the probe tip can be fitted with a Moisture Guard moisture filter, which is very useful for testing samples with moisture present.
Also, the Model 907 can be equipped with a tube/metal probe assembly, useful for testing enclosures or processes where a probe must be inserted into the area to be measured. When the internal pump is activated, sample is drawn through the probe and tubing and then to the sensors.
USER FRIENDLY, ACCESSIBLE CONTROLS
The Model 907, when carried in the shoulder strap case, has all of the commonly accessed
controls on the top of the unit for routine operation. Additional calibration and timing control adjusters are on the bottom of the analyzer, easily accessed by removing it from the carry case.
ABOUT THE SENSORS
The solid-state infrared CO2 sensor utilizes dual wavelength technology for maximum stability.
It has no moving parts, no consumables, and is housed in a compact optical cell. The sensor responds to CO2 only.
The electrochemical O2 sensor life is typically 3-4 years, unlike other analyzers with an electrochemical sensor that last 1-2 years. When required, replacement is easy and inexpensive.
Both sensors are unaffected by high levels of background gases such as nitrogen.
MICROPROCESSOR/ELECTRONICS
Micro-processor based electronics provide sensor signal processing, battery charging, pump timing and on/off control for high accuracy and reliability with minimal component use and reduced size and cost.
The Model 907 CO2 sensor combines cutting edge 32-bit digital signal processing with the solid reliability, compact size and state of the art microprocessor technology that makes this
full-featured CO2 measurement system less complex and more robust than other instrumentation.
The Model 907 uses a long-life, fast response heavy duty electrochemical O2 sensor, with an expected lifetime of 3-4 years. Other electrochemical O2 sensors have an expected life of 1-2 years.
The expected life of the CO2 sensor is theoretically unlimited, as it contains no moving parts or consumables.
WARRANTY STATEMENT
The Model 907 is backed up with a two year warranty, twice the industry standard.
Our service team responds quickly to the repair needs of our customers.
---
Specification
Technical Specifications – Oxygen Channel
Oxygen Sensor Type: Proprietary Electrochemical
Expected Lifetime: 4 years
Oxygen Range: 0 to 100%
Oxygen Sensitivity: 0.1% O2
Oxygen Minimum Detection Limit: 0.1% O2
Oxygen Calibration Controls: SPAN adjustment, zero adjustment
O2 Calibration Frequency: Weekly; set with room air set to 20.9% O2.
O2 Resolution: 0.1% O2
Technical Specifications – Carbon Dioxide Channel
Carbon Dioxide Sensor Type: Solid-state Infrared
Expected Lifetime: Theoretically unlimited
Measurement Ranges: 0-20% or 0-100%
Accuracy (for 0-100% range): ± 1% of reading, or ± 0.2% CO2 (whichever is greater)
Accuracy (for 0-20% range): ± 1% of reading or ± 0.1% CO2 (whichever is greater)
CO2 Minimum Detection Limit: 0.1% (0-100% range)
CO2 Minimum Detection Limit: 0.01% (0-0-20% range)
CO2 Calibration Controls: Potentiometer SPAN adjustment for CO2.
CO2 Calibration Frequency: Every 18 months; calibration gas recommended.
Technical Specifications – All
Sample Pump – Miniature diaphragm type with ~5cc/sec flow
Pump Timing – 2-12 second adjustable pump time, potentiometer on back of analyzer
Sampling Port – Double reinforced sample probe (~12in. length)
Exhaust port – Vents to air
Size – 8W x 2H x 7D in. (203 x 51 x 178 mm)
Weight – 2 lb. (0.9 Kg)
Warranty – 2 years, parts and labor
Standards – CE, RoHS,
Origin of Goods – Our products are manufactured in the U.S.A.
---
Application
Food Package Applications:
Dairy Products
Produce
Snack Foods
Baked Foods
Prepared Meals
Coffee
Pet Foods
Desserts
Meats
… and many more
Research and Industrial Applications:
Bioreactors
Gas Blending Systems
Fruit Storage Areas
Fermentation
Algae Experiments
Welding Gases
Controlled Atmosphere Rooms
Carbon Capture and Storage
Incubation Experiments
Cell Culture analysis
Greenhouse CO2 Research
Biofuel Experiments
CO2 Mitigation Research
….. and Many More
---
What's Included
If you are using the Model 907 for package testing, these included items will be of use
Built-in pump, sample probe.
Starter pack of 200 foam septas
2 needles.
2 particulate filters,
2 moisture blocking filters,
Power supply / charger (for analyzers with optional internal battery) – (International compatible 100-240V)