Crown Cap Leak Tester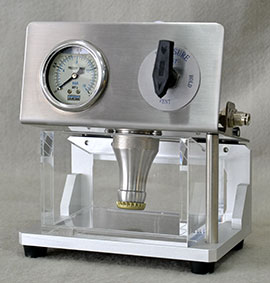 Used for testing air –tightness of the crown cap. Stainless steel design ensures the durability of the tester during the test.
Cap the crown cap on the neck of the bottle mold, plunge the cap in the water tank, then increase the internal presser and
observe if there are air bubble coming out,so that to test the air tightness of the caps.
Widely used in breweries,beverages and caps manufacturing industries.
Technical specification:
Pressure range : Up to 12 bar(174 PSI)
Pressure Source :N2,CO2 or Compressed air
Sample type : Crown cap
Dimension : 250x200x300 mm
Net weight : 4 Kg