HVAC Combustion Analyzer
---
BTU900 Economical Emissions & Combustion Analyzer
Highlights
AUTOMATIC Direct Outdoor Air Temperature Measurement for ALL HIGH-EFFICIENCY & CONDENSING Boilers, Water Heaters, Furnaces, etc.
Upgradeable to NO/NOx
Now with Wireless Bluetooth™ Printer (no more lining up IR printers)
Five–Tools–In–One
Combustion Analyzer for O2, CO, CO2 (Calculates Combustion Efficiency, Excess Air, Losses, CO Air Free)
Ambient Room Air Carbon Monoxide (CO) Leak Detector
Draft Meter (Negative & Positive Draft)
Built–In Differential Digital Pressure Manometer
Built–in Differential Thermometer
Features
High Range CO Sensor (0–8000 ppm) with Integrated NOx Filter
High Range CO Sensor for Over–Range Protection
Flue Stack & Ambient Temperature
Outdoor Air Temp Measurement (High Efficiency & Condensing Boilers)
Flue Stack & Ambient Temperature
"Plug–n–Play" Pre–Calibrated Field Replaceable Sensors
Unbreakable Metal Connections
600 Internal Test Memory
PC Software Package with USB & Bluetooth Communications Included
Wireless Bluetooth Included
10 Fuels & Oils (Including Bio–Fuel)
Protective Magnetic Rubber Boot
Rechargeable Lithium Ion Battery Pack with AC Charger
ONE Button Operation with One–page Quick Reference Guide
Large, Bright BLUE LCD Backlit Display
Zoom Feature
IR Printer Port (Analyzer can print to your existing HP type IR printer)
Quick & Easy Intuitive Menu with One–Page Quick reference Guide
External Water Trap for Easy Condensate Removal
12″ Probe Included with 10′ Dual Hose for Gas & Draft Measurements
Lightweight Vinyl Carrying Case
Economical, Ergonomic, Compact, and Rugged
Perfect for ANY Natural Gas, Propane, Oil, Wood, Coal, Bio–Fuel, and many more Applications
---
BTU1500 "All-In-One" Combustion Gas Analyzer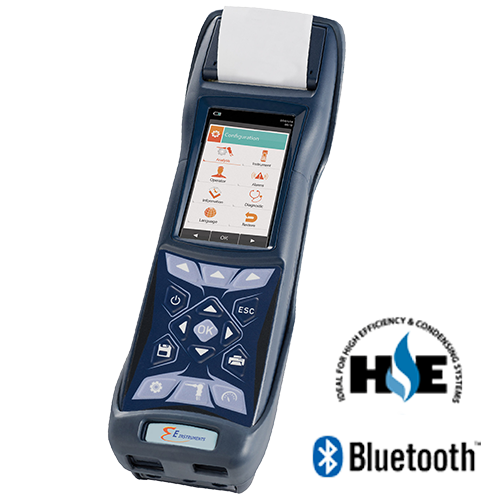 All In One Flue Gas Combustion Analyzer for HVAC Residential & Commercial Boiler & Furnace Installation & Maintenance
Highlights
APP for Android Smart Phones & Tablets
AUTOMATIC Direct Outdoor Air Temperature Measurement for ALL HIGH-EFFICIENCY & CONDENSING Boilers, Water Heaters, Furnaces, etc.
Five–Tools–In–One
Combustion Analyzer for O2, CO, CO2 (Calculates Combustion Efficiency, Excess Air, Losses, CO Air Free)
Ambient Room Air Carbon Monoxide (CO) Leak Detector
Draft Meter (Negative & Positive Draft)
Built–In Differential Digital Pressure Manometer
Built–in Differential Thermometer
Features
Built–In Printer (NON–Fading)
Full COLOR GRAPHIC Display Screen with ZOOM Function & Backlight
Automatic Data Saving
2000 Internal Test Memory Spots
High Range CO Sensor (0–8000 ppm) with Integrated NOx Filter
PC Software Package with USB & Bluetooth Communications Included
High Range CO Sensor for Over–Range Protection
Quick & Easy Intuitive Menu with One–Page Quick reference Guide
Flue & Ambient Temperature
Outdoor Air Temp Measurement (High Efficiency & Condensing Boilers)
Unbreakable Metal Connections
"Plug–n–Play" Pre–Calibrated Field Replaceable Sensors
External Water Trap for Easy Condensate Removal
Rechargeable Lithium Ion Battery Pack with AC Charger
Unbreakable Metal Hose Connectors
32 Programmed Fuels & Oils (Including Bio–Fuel)
Zoom Feature
User Customized Display Screen & Print–Out Content
ONE Button Operation
Customizable Printouts
12″ Probe Included with 10′ Dual Hose for Gas & Draft Measurements
Lightweight Vinyl Carrying Case (Hard ABS Case available)
Protective Magnetic Rubber Boot
Economical, Ergonomic, Compact, and Rugged
Perfect for ANY Natural Gas, Propane, Oil, Wood, Coal, Bio–Fuel, and many more Applications
---
BTU-4500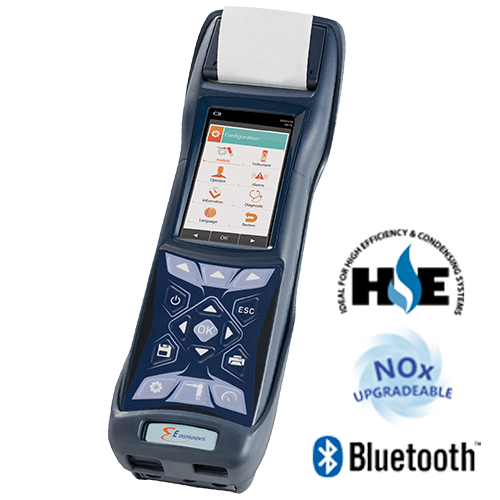 The BTU-4500 is a NEW hand-held commercial and industrial gas analyzer that is a valuable tool designed for emissions monitoring and maintenance and tuning of combustion processes including boilers, burners, gas and diesel engines, turbines, furnaces, kilns, heaters, and laboratory analysis.
BTU-4500 Features include the following:
Up to Four Gas Sensors:
O2, CO, NO, & NO2 OR O2, CO, NO, & SO2
Dilution Pump For CO Auto-Range Measurements Up To 50,000 ppm
Built-In Impact Printer (non-thermal)
Low NOx Capable with 0.1ppm resolution
ALL Gas Sensors are Pre-Calibrated & Field Replaceable
Efficiency, Excess Air, & CO2 Calculations
Stack Gas & Air Temperature Measurements
Draft & Differential Pressure Measurements
External Water Trap for Condensate Removal
Rechargeable Lithium Ion Battery Pack
Unbreakable Metal Hose Connectors
Internal Memory (up to 900 tests)
PC Software Package
Field Upgradeable Kits to add more sensors!
---
Model 7899 NEW – Combustible Gas Sniffer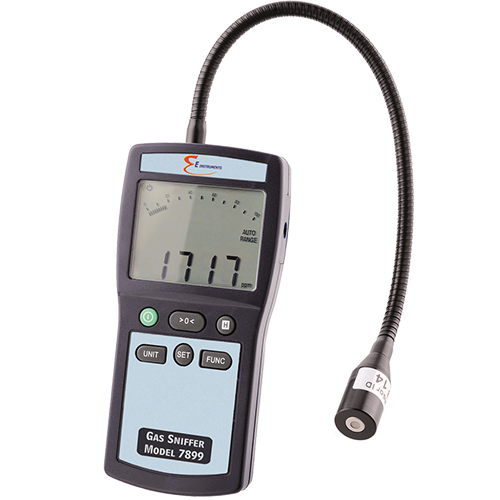 The New Model 7899 Portable Gas Leak Detector is a rugged, highly–sensitive, accurate and easy–to–use leak tester with an LED display, scale and audible beeper to effectively pinpoint small leaks of Combustible gas hydrocarbon fuels from any piping and/or appliances. Inaccessible points can be reached with the flexible, 11″ long probe.
Visual LED screen & Audible Alarms
Rugged, accurate, and highly sensitive
Auto Zero–Drift Adjustment
Quick Response Time
11″ Flexible probe to reach inaccessible or "impossible" places
Uses semiconductor sensors with improved sensitivity and extended long life
Portable Gas Detector
The 7899 portable gas detector is the perfect handheld tool for any combustible gas leak detection including natural gas, town gas, propane, methane, butane, kerosene, gasoline and many more in a variety of applications including HVAC, residential, commercial, engines, piping, and industrial processes.
This small, lightweight portable gas detector easily fits in your hand and in your toolbox for easy transportation and use. The 7899 portable gas detector allows the user with the ability to quickly and easily detect combustible gas leaks in most hard-to-reach places around appliances using the included 11″ flexible probe.
The gas readings on the Portable Gas detector are shown on its large, easy-to-read LCD display in either ppm, % vol, or % LEL, giving the user the actual amount of combustible gases are present. Contact E Instruments for your portable gas detector needs.