Easy Fill – Pump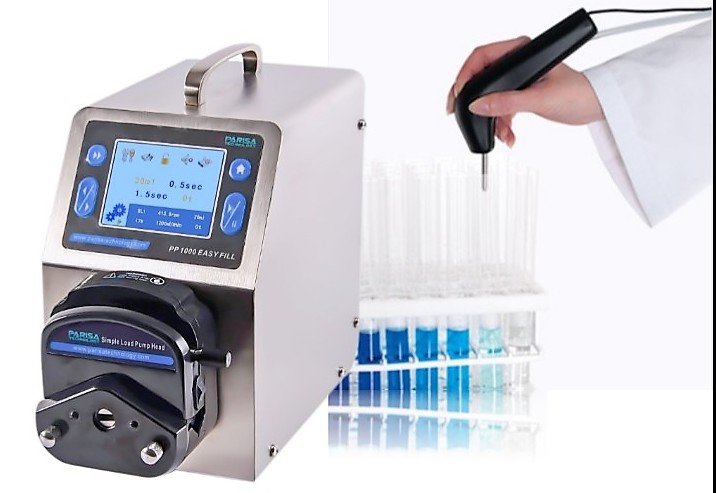 Now Liquid Dispensing / Pouring / Filling Made Easy
Dispensing pumps for culture media preparations, buffer, Agar and other liquids in
Petri dish, small bottles, Vials, Ampules and Test Tubes in microbiology applications.
---
Fast Liquid Dispensing
EASY FILL is a range of peristaltic pumps for culture media preparation. Use it for serial dispensing of culture media, agar or any liquid diluent for efficient sample preparation
Designed for microbiologists
Select from 3 dispensing modes:
-Continuous Filling
-Dose (predetermined volume)
-Multi-dose (predetermined volume, with
an adjustable pause between each dose)
09 sets of filling data Memory storage.
Precise flow control
Up to 0.5% precision
Contamination free : dispensing assembly is entirely autoclavable (Tube and Nozzles)
Anti drop system
Simple calibration
Step-by-step instructions on screen
Calibration possible with chosen volume
Can be done quickly by anyone in the lab
Easy dispensing
Improved dispensing control with the handy gun and the adjustable arm
Serial dispensing of:
Culture media filling
E.g. 5,10,15, 20, 50 mL Filling in test tubes
Agar filling
E.g. 5,10, 20, 25, 50 mL Filling in Petri dish
Any liquid Filling
E.g. 50, 100, 200, 300, 500 mL in bottle or blender bag.
Maintenance free
Heavy duty durable stainless steel Body.
Powerful stepping motor with no wearing parts.
High quality pump heads.
---
Special Functions of Easy Fill Pump
Touch-Screen Function – Large 3.5-inch Color LCD screen operation , intuitive and intelligent. Long life, easy to operate.
Memory Function – User data storage function: 9 sets of filling data , that can help customer fastly find the original filling data .Data will be stored in time after power off. When power supply is restored, the pump can remember the parameter Settings before power off, which is more safe and reliable. The original filling data can be quickly found by entering the storage interface with one key.
Calibration Function – Microprocessor based Intelligent flow calibration: after setting the target flow, input the actual flow value, and the system will automatically carry out flow calibration to ensure the flow and accuracy. With Calibration function that can ensure the filling accuracy .
Display Function – Real-time animation of the operation interface shows the running s1100tate and working parameter.
Full Speed Function – one button to control full speed operation, used for quick cleaning, filling and emptying tubes, etc.
Suck-back Function – By setting Suckback angle and Suckback speed to prevent liquid dripping and ensure fluid accuracy. Anti drop System.
Lock Screen Function – lock screen design, error proof touch, application more secure.
---
Special Features & Characteristics of Easy Fill Pump
Hand Dispenser/ Handy Gun – High precision filling and Tube Handling with adjustable arm and
inbuilt START/STOP switch.
Smart Filling – Best Choice for smart filling of culture media, buffer and other solutions in Petri Dishes, Test Tubes, small bottles ,vial, Ampules etc filling.
Variety of work modes – Transfer mode, Filling mode
Intelligent Filling – Peristaltic dispensing pumps on function is powerful in microbiology.
Foot switch control – For Hand Free operation.
Motor – With both-way large torque, high power stepper motor.
Design – Whole housing design-stainless steel housingsturdy and durable , multi-face seamless
whole housing design, Long service life, high cost performance.
Contamination Free – Tubes and Stainless Steel Nozzles entirely Autoclavable, no risk of cross
Contamination.
Tubing – Accepts different size tubing with same WT for different flow range.
Compact , Easy Handling and Portable
---
Technical Specifications
| Technical Parameter \ Driver Mode | PP-1000 EASY FILL SIMPLE LOAD |
| --- | --- |
| SPEED RANGE | 0.1 ~ 600 rpm |
| SPEED RESOLUTION | 0.1 rpm |
| FLOW RANGE | Max : 2280ml/min |
| FLOW ACCURACY | +- 0.5% |
| SPEED CONTROL MODE | TOUCH SCREEN ADJUSTMENT |
| DISPLAY MODE | COLOR LCD DISOLAY (English) |
| ALLOCATION TIMES | 0 ~ 9999t |
| ALLOCATE TIME | 0. 1s ~ 9999 min |
| INTERVAL TIME | 0. 1s ~ 9999min |
| RETURN SUCTION ANGLE | 10 degree ~ 720 degree (1 Stepping) |
| RETURN SUCTION SPEED | 10 ~ 300 rpm |
| POWER SUPPLY | AC 220 +- 10% (Standard) OR AC 110 +- 10% (Optional) |
| POWER | < 50w |
| EXTERNAL CONTROL | START/STOP DIRECTION SPEED CONTROL (OPTIONAL) |
| INTERFACE | RS. 485 SERIAL COMMUNICATION |
| WORKING ENVIRONMENT | TEMPERATURE 0~40oC, RELATIVE HUMIDITY < 80% |
| DRIVE SIZE | 254 x 184 x 145 (MM) |
| DRIVE WEIGHT | 4.8 KG. |
| PROTECTION LEVEL | IP 31 |