Automatic CO2 Measuring Device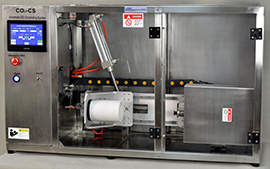 CO2-CS Automatic CO2 Calculating Syatem
CO2-CS Automatic CO2 Calculating System is an innovative and full automatic CO2 content calculating system which is newly developed byAT2E.
Features
Full Automatic system – easy to get CO2 content only by putting the sample into the system and the whole process including puncture, sealing, shaking, displaying and venting will be carried out automatically.
Stainless steel Design– which is more durable and steady when testing .
Innovative shaking method- Allows the shaking sample and the CO2 evolution to be more complete, so that the measure result is more accurate. Meanwhile, because of the innovative design, it avoids any mechanical maintenance problem which may occur on typical rotary shaker.
Safety design – all the shaking process is carried out inside the chamber which may avoids the potential danger to operator.
PLC & Touch screen is equipped- which enables the more accurate measure and customized measure request. Shaking time and shaking speed can be set according to operator demand.
Abundant information – operator, product name, batch number and sample number can be edited and saved with the system.
2 Formula- for alcohol drink and soft drink, 2 different CO2 calculating formula could be selected as per demand
Threshold Display- results which are higher and lower than the standard will be displayed.
SPC connected is available.
Technical specification
Power supply: 230V/ 50Hz
Sample range: up to 120mm in diameter/ up to 360mm in height
CO2 measuring range: -0-9.99 g/L
Temperature measuring range: 10 to 60 0C
Pressure measuring range: 0 to 60 bar
Accuracy: +-0.0.1 bar(pressure)
CO2 content unit: "g/L", "Volume", "Weight%" and "P20[Kg.cm2]".
Temperature units: 0F and 0C
Language: English/ French/ Spanish/ Chinese
Dimension: 117.5x42x69.5 cm.
Net weight: 75 Kg.