Model 905P Process O2 Analyzer
Overview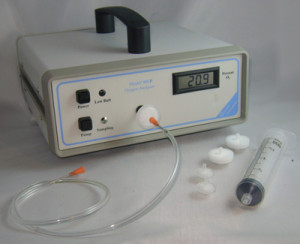 The Model 905P is a process O2 analyzer, designed to check oxygen levels in all types of processes, gas blending, biotech, fermentation, fruit storage areas, welding gases, and controlled atmosphere rooms.
This process o2 analyzer is available with any single range from 0 to 5% up to 0 to 100% O2 vol/vol full scale.
For those applications where a source of sample flow is not available, the 905P can be equipped with an optional sample pump which can operate in a continuous or batch (1-10 seconds) mode.
ABOUT THE O2 SENSOR
The Model 905P design incorporates a long-life, heavy duty, proprietary electrochemical, maintenance free sensor. The sensor is totally sealed, operates at room temperature and is internally compensated for slight temperature variations. Unlike other sensors, it is not dependent on a controlled flow rate for accuracy, is not heated and is not affected by high levels of CO2, hydrocarbon or other gases.
The sensor assembly is cable connected to the control circuit board. It can be used with diffusion or pumped sample draw systems. The measurement accuracy is not affected by sample flow rate.
The expected electrochemical sensor life is typically 5 years, unlike other analyzers with an electrochemical sensor that last 1-2 years.
OPTIONAL INTERNAL BATTERY
With its low power requirement, the Model 905P can be operated with an optional battery for those applications where AC power is not readily available. A totally sealed, long-life internal 12 Vdc gel battery accepts a full or partial charging cycle and will operate the unit for up to 8 hours
---
Specification
Range: 0.0 to 100% Oxygen
Resolution: 0.1% Oxygen (optional .01% resolution available)
Accuracy: +/- 1% of reading
Minimum Detection Limit: 0.1%
Drift: Less than 1% per month
Sensor: Proprietary electrochemical cell
Sensor Lifetime: Expected lifetime 4-5 years
(Optional) Pump: Internal, with adjustable timer (2-12 seconds), draws ~5cc/sec
Calibration: Calibrates with room air; span and zero adjusters on back of analyzer, NIST certificate included
Calibration Frequency: Two years after initial shipment, recommended once a year thereafter
Power Supply: 100-240V Internationally compatible power supply/charger
Input Voltage: 100-240V, 50-60Hz
(Optional) Battery: 10-14 hour run time before recharging
Size: 9.8in x 4in x 10in. (249 x 102 x 254 mm)
Weight: 8 lb. (3.6 Kg)
Warranty: 2 years, parts and labor
Standards: CE, RoHS
Options: Internal pump, cycling-enabled pump, 0-5Vdc analog output, internal relay/control board to activate external audible alarm, buzzer, or contact closure.
Included Documentation: Owners manual (includes operating instructions with detailed calibration instructions, calibration certficate, precautions), NIST calibration certificate
Origin of Goods: Our products are manufactured in the U.S.A.
---
Application
Gas Blending
Biotech
Fermentation
Fruit Storage areas
Welding gases
Controlled Atmosphere rooms
Process monitoring
---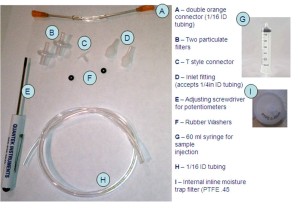 What's Included
Internationally compatible (100-240V) power supply / charger
A – double orange connector (1/16 ID tubing)
useful if you choose to inject sample gas into the inlet of the analyzer using the supplied 60 cc syringe.
B – Two particulate filters
These leur-fit filters can be attached to the inlet fitting of the analyzer to provide extra protection from particulates.
C – T style connector
This fitting is useful as a flow limiter – by passing your sample gas through this fitting, and leaving one of the T stems open, you can reduce the flow reaching the analyzer.
D – Inlet fitting (accepts 1/4in ID tubing)
This is a replacement spare for the inlet fitting in the event that your original fitting is damaged or the threads stripped.
E – Adjusting screwdriver for potentiometers
This screwdriver fits the potentiometers on the back of the analyzer.
F – Rubber Washers
These are replacement rubber washers. One is already installed behind the inlet fitting to provide a leaktight seal.
G – 60 cc syringe for sample injection
Useful for syringe injection. Note, however that this method may require at least 120 cc of gas to get a proper reading.
H – 1/16 ID tubing
This tubing can be attached to one of the orange hubbed needles, and affixed to the inlet fitting.
I – Internal inline moisture trap filter (PTFE .45 micron)
This filter is a replacement for the inside particulate and moisture filter in the analyzer. Should you accidentally allow moisture into your gas flow, then find the readings not to change as expected, then you may need to replace this filter inside the analyzer by removing the top cover. This is a four layer filter which will completely block gas flow upon saturation.
---
Optional Items
Internal Pump
A mini diaphram pump installed inside the analyzer, and draws approximately 5 cc per second. Great for situations where there is no source of flow. Expected -pump lifetime is 8-10 years.
Analog Output (vdc)
Terminal strip is provided on the back of analyzer to attach to your own data acquisition equipment. The concentration measured is proportional to the analog output, and can be modified to fit your system with a full scale of 0-1vdc, 0-5 vdc, or 0-10vdc.
Analog Output (4-20mA)
Similar to the vdc output, we can provide a current output with a linear signal proportional to concentration. This option is useful for very long cable runs, as a break in the cable will be detected by your data collection equipment.
Two Mode (Continuous) Pump Switch
Enables use of the pump in two modes – one mode is clicked "on" and leaves the pump running until unclicked. Pressing the switch lightly enables operation according to the user adjustable potentiometer timer.
Cycling Pump
An internal circuit control allows you to program the pump to operate for x sec/min/hr and then rest for y sec/min/hr. This is especially useful for long term experiments where you do not want the pump to operate continuously, but want a fresh sample drawn in occasionally. We set it at the factory, but you can change it later. Most customers choose roughly 5 minutes on, and 55 minutes off, to run experiments over the course of days.
Data Logger
Our data logger includes everything you need for collecting analysis data from our benchtop analyzers. For analyzers with a vdc analog output installed, the data logger is used to collect measurements for offloading to a PC or Mac.
Internal Rechargeable Battery
Fine .01% Resolution
An extra digit of resolution can be provided for applications where accuracy is of the utmost importance. Please note that for 0-20% CO2 analysis range, we can provide this at no additional charge.
Recirculating Exhaust
Connectible 1/8in leur fit outlet at exhaust port enables re-capture of gas for closed systems.
Swagelok Inlet
Swagelok Inlet – Installed brass Swaglok inlet fitting for compatibility with your existing equipment.