Cooking Oil Tester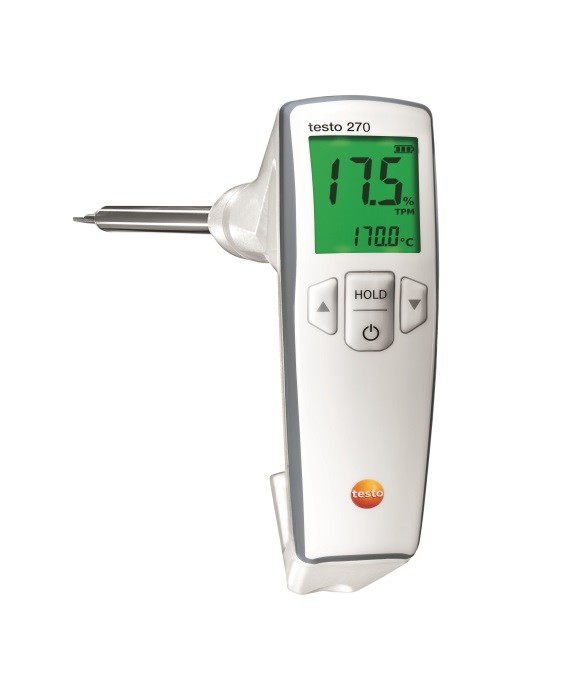 Frying cooking oil is not healthy beyond a certain level of use. Chain restaurateurs with test 270 digital cooking oil tester only need to change the cooking oil once critical TPM values are reached. This not only ensures healthy cooking oil for their customers but also benefits them from cost savings.
Product benefits
Capacitive oil sensor from Testo, teamed with its ergonomic design, make it possible to take measurements in hot oil (user is protected from the heat of the deep fat fryer)
IP 65: protected against water jets without a protective cover
Clear, visual alarm indication via highly-visible alarm backlight in traffic light colours
Washable case for hygienically stowing away at the application site
Deatils
Product description
The digital cooking oil tester testo 270 will enable you to work more reliably, intuitively and efficiently. You will find this digital cooking oil tester to be a competent assistant, helping you achieve impeccable quality assurance when it comes to your frying processes. Easy cooking oil monitoring using testo 270 will enable you to observe critical TPM values, so that you can change the oil at just the right time. This saves you from changing the cooking oil more frequently than is necessary, allowing you to benefit from the associated cost savings.
Robust, simple and convenient for the kitchen
With its reliable measurement technology, testo 270 the digital cooking oil tester is your competent partner when it comes to ensuring quality assurance for your deep fryer, whether you are using the instrument in your restaurant business, commercial kitchen, in catering, food inspection, or in the quality assurance or production of food.
The digital cooking oil tester is easy to use: you can set the required TPM limit values in advance, and protect them from being modified inadvertently with a PIN. The cooking oil tester's display will assist you during the measurement itself: it will flash until a stable reading is reached. The display signalling function in traffic light colours (red, yellow and green) enables quick detection of the measurement result range. Naturally, the accurate reading in %TPM can also be read off on the display.
All the advantages of testo 270 digital cooking oil tester at a glance
It's simple: It features self-explanatory operation with 3-stage alarm backlight, the capacitive oil sensor from Testo makes it possible to carry out back-to-back measurements in hot oil without needing to wait for the cooking oil tester to cool down.
It's accurate: Calibration can be carried out at the measuring location using the reference oil
It's robust: The fibreglass housing of Testo's digital cooking oil tester is extremely impact-resistant. Moreover, the oil sensor is embedded in metal and is therefore break-proof. In compliance with protection class IP 65, it is protected against water jets and can be washed under running water
It's safe: Users are protected from the heat of the cooking oil thanks to the measuring instrument's ergonomic design
It's clear: %TPM shown on the large display along with the unambiguous signalling function of the display illumination in traffic light colours (red, yellow and green); Hold and Auto-Hold function for the display of readings
What's included
testo 270 digital cooking oil tester including reference oil, plastic case, calibration protocol, training card, instruction manual and batteries
---
Technical data
Temperature – PTC
Technical data
Measuring range
+40 to +200 °C
Accuracy
±1.5 °C
Resolution
0.1 °C
TPM – Capacitive
Technical data
Measuring range
0.0 to 40.0 % TPM
Accuracy
±2 % TPM (+40 to +190 °C)
Resolution
0.5 % TPM (+40 to +190 °C)
General technical data
Technical data
Housing
ABS / ABS-PC fibre glass
Protection class
IP65
Warranty
2 years
Application temperature
40 °C; 200 °C
Alarm features
Upper and lower TPM limit value freely adjustable, visual alarm via 3-colour display
backlighting (green, orange, red), values and illumination flash in the display
until the measurement is ended (Auto Hold)
Battery type
2 AAA micro batteries
Battery life
approx. 25 h continuous operation (corresponds to approx. 500 measurements )
Dimensions
50 x 170 x 300 mm
Display type
LCD
Display size
2 lines
Display ligthing
backlite
Operating temperature
0 to +50 °C
Storage temperature
-20 to +70 °C
Weight
255 g
Reaction time
Reaction timeApprox. 30 s
---
Accessories
Cases
Accessories
Certificate