Octaline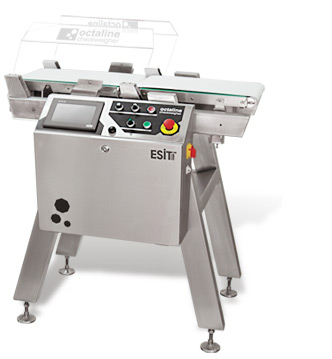 Description
Quality control has always been the most important element
in today's competitive environment. It is not a desired
situation that a product, which has been packed and will be
sent to the customer after a long process to be missing or
excessive, in terms of both the consumer rights and the
company's expenses. At this final stage of production, Esit
Octaline Check Weigher checks whether the weight of the
packed product is, in line with accepted value weight of the
product.
Esit Octaline Check Weigher is composed of weighing belt
and digital control terminal. Weighing belt runs
automatically by integrating in existing belt system The
products are weighed while they are passing on the
weighing belt, the packages with non-conforming weight or
number of parts are determined. Audio and visual warning
system runs for non-confirming packages; furthermore
there are some rejection options such as marking, piston
separation, tilting etc. for sorting such products out of the
belt.
Esit Octaline Check Weigher' digital control unit is capable
of reporting. Reports taken with regards to the production
quantities and missing package quantities are assessed as
important data during production control in the company.
Specifications
Static dynamic weighing
High accuracy
Self-driven weighing belt
Height adjustable tray
Quantity and weight based reporting facilities
Computer and printer output facility
Reject system options
Technical Specifications
Model
OCTALINE 6
OCTALINE 15
Maximum Speed
60 pcs/min
45 pcs/min
Capacity
40 – 6000 g
100 – 15000 g
Maximum Accuracy
± 2g
± 5g
Belt Width
300mm
Belt Length
340-450-550mm
Protection
IP54
Height from the Floor
600-1000mmve +/- 50mm
Conveyor
TPU Thermoplastic Belt
Engines
36V DC Brushless Motor
Feeding
210-240V AC 50/60Hz
Power Consumption
400W
Operating Temperature
15°C / 45°C
Standard Equipment
Weighing Belt
Entry Belt
Control Panel
Options
Reject System
Piston and Roller Rejection (Including slide)
Piston and Belt Rejection (No slide is given)
Legal Status: Sealable
Dimension